Here are some pics of a lap quilt and matching 18" doll quilt that I made for my friends daughter for Christmas. This lucky little girl is getting a slew of American Girl dolls and accessories for Christmas and I thought every little girl needs a special blanket to play on with a matching one for her favorite doll.
I really had no plan in place when I bought the fabric. I just purchased 8 fat quarters in fun fabrics and some yardage of matching colors. I ended up going with half square triangles with blues and greens as the solids. I played with different layouts and finally settled on this one. I used leftover squares to piece a strip down the back. A little extra fun.
It was a fun project to make!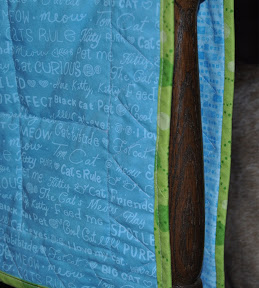 - Posted using BlogPress from my iPad
Location:Home