I needed a gift for a Christmas party with our friends. I decided to make something for it this year. The spending limit is $15. My thought was to search through my stash for some Christmas fabric and make a fabric bowl.
Only problem is that I have not bought any Christmas fabric in years! At least 8 years... I went on a Christmas fabric spree about 10 years ago and had plenty. Well now I am just down to a woefully few scraps and the one bigger piece was just plain old ugly and outdated. My plan just changed to using non Christmas fabric from my stash... I have plenty of that.
However, yesterday when I was at the quilt shop geting fabric for another Christmas gift this wonderful bolt of fabric was sitting on the cutting table and I just HAD to have a yard of it!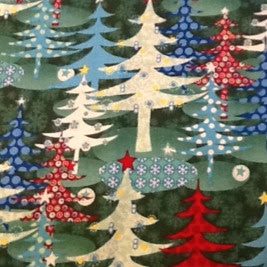 It is Christmassy without being over the top and I just loved the colors.
I got home and got to work and by the end of the night I had 2 new fabric bowls. One will be for the Christmas grab bag and one is for my mother-in-law. I think I will pair each with a bag of yummy wrapped chocolates for a lovely little gift.
The fabric is from the Snow Queen line from Northcott. I used timtex as a stiffener, some fusible web and aqua/teal batik from my stash and a bit if green batik from my stash as accompanying fabrics.
The 2 bowls use the same fabrics and same basic shape (round) but they are 2 different styles. The first one is more structured. Straight line darts and precise quilting the second one is more free form and random. Both were lots if fun!
The thread is YLI Machine Quilting 100% cotton 40/3 ply variegated called Danube Blues. I did use just under 500 yards of thread just for these 2 bowls!
I used the book Fun fast & easy Fabric Bowls by Linda Johansen as a guide for this project.
- Posted using BlogPress from my iPad
Location:Home