So... I couldn't help myself and totally spoiled my grand-doggy, Holly.
I had the leather bin out doing some work for Halloween Costumes and had a perfect size piece to make a great leather jacket for Holly. All of my leather pieces are recycled from old garments. The soft leathers are cut from old leather coats and jackets and the thicker, heavier suede pieces are cut from old riding chaps.
I had the leather out to re-do the sides of my husbands leather vest and had this great piece of super supple leather sitting there right next to Holly's little winter coat and I just decided to whip one up. I lined it in a remnant piece of black parachute pant fabric that was in my scrap stash.
For Halloween I will attach the key to the coat via some carefully placed stitches to the lining. Then after just snip off the key and she is all set.
I promise to get pictures of her in it!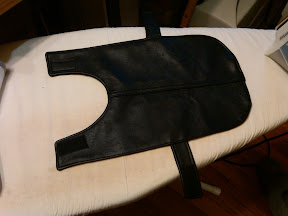 - Steph... From my iPad
Location:Home