Well, after a couple days of full on creativity and incorporating ideas and the coverup is done!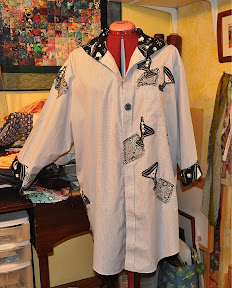 The requirements for my beach coverup was that it needed it cover me up from the sun and or cool breezes, I wanted it to look cool and unique and I wanted to not look like I threw on my husbands old shirt for a cover up.
I removed the collar and added a hood, I removed all the men's buttons and added one big button for a closure. I added some elastic to the back for some shaping. I also removed the cuffs and about 10 inches of sleeve and added a color blocked band. I decided to stick to just the 2 black and white prints for color/contrast.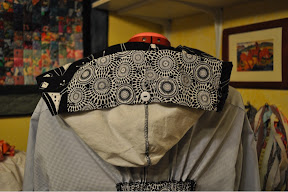 The outside of the hood is the body from a very old white cotton shirt that I had but no longer wore due to a stain. I made the hood extra large and lined it in color blocked black and white prints and then added a button and button hole to hold it folded over. Sooooo cute!!!
I also added fussy cut appliqués from the martini black and white print along with some general print shapes and appliquéd them on with raw edges.
So, what do you think???
- Steph... From my iPad
Location:Home