I have been working in my sewing rooms bit lately. I just have not posted because it has been Halloween stuff. Halloween is one of our favorite holidays and when possible we like to have a Halloween party with a costume contest. :) I know, we are like a couple of big kids!
So I have been working on a new dress using some interesting knit fabric. I must say that this dress tested my patience as well as my handiness with a seam ripper. There were 2 definite times where I was positive it was going to a wadder! I really wanted to just throw my hands up in frustration. However, I was not letting this adorable fabric go out the window nor was I going to let it get the better of me!
When you look closely at the fabric it resembles panty hose type knit with the colored loops added. It is also quite see though, so I added a lining of flesh colored swimsuit lining. It is actually a nice lining because it not only provides coverage it also acts like a very lite slimmer and feels good too.
Pattern is McCall's M6032 view A modified for no zipper or center back seam.
So after much perseverance and good thoughts the dress is done and it is super cute!!!! I am extremely happy with it.
I will be wearing it in Miami this Saturday night for a Cancer Charity Bash at the annual meeting of American Society of Therapeutic Radiation Oncology.
The only downfall to the whole look is that I have to wear my lovely leg brace. Oh well. Because of the leg brace I also have to wear a pair of tights. The brace has Velcro on it and it shreds panty hose and makes a raw spot on my other leg. Seems to do Ok with thicker tights.
Dress with the shoes and an antique brooch at the bust line to fancy it up a bit.
Sleeve detail, I wanted to make it more interesting and piping was not really an option do to the busy knit so instead I finished the little cap sleeve and then applied it with a lapped seam finish.
The little loop Just below the center bust to gather the dress into the flowing front drapes. I left this as self fabric because the I can wear it plain or dress it up with a brooch.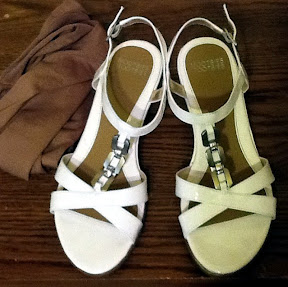 The shoes. They are cute and fancy but with a low heel. Too bad I have to wear those darn tights!
- Steph... From my iPad